ISH/IHC automaton for Bio Labs
Flogentec, is a biotechnology company based in Valence, France, specialized in designing high throughput biology equipments.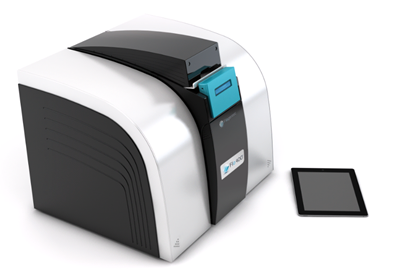 We offer you a laboratory automaton for in situ hybridization, immunohistochemistery and FISH automation. This ISH/IHC automaton is furnished with our products.
We propose you to discover our products :
Our Laboratory equipment automatons were developed, tested and produced into our company after many years of R&D. These high throughput biology devices were developed to speed scientists works with fast, reproducible and high quality results. This laboratory equipment automaton is easy to use and associated to a control software.
This Lab equipment performed all the steps of a classical ISH/IHC protocol:
Permeation with proteinase K
Postfixation
Prehybridization
Hybridization with individual RNA probes or antibodies
Post hybridization washes
Blocking and revelation
All washing steps
The innovative technology:
Our biology lab automatons work with an innovative technology. The constant flow and the cycling of reagents are innovative process made possible by the original and designed Flowcells and adjusted protocols. All of this bring competitive vantages and is international patent protected. This technology inhibits samples deterioration because they are never manipulate during the complete protocole execution. This constant flow of reagent allows also a better probe's hybridization to the targeted RNA and a background noise diminution. Moreover, the created flow of reagent highly decrease non-specific bindings into the sample but also a reduce the quantity of probes needed for the sample testing.